How to prevent your car being stolen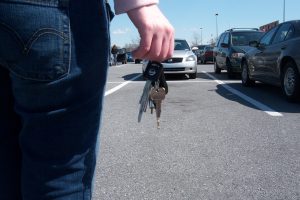 Antwis Engineering's guide to protecting you and help prevent car crime
At Antwis Engineering, our customers are our priority. Whilst we spend all our time helping our customers to fix their cars and get them running smoothly, there is still quite a lot of car crime out there. So we've come up with a helpful guide to help customers prevent their car from being stolen so that they can stay safe.
While Great Britain may not be the car crime capital of Europe, we should still remain vigilant as it doesn't seem to be stopping anytime soon. It was reported that between 2015 and 2016 there was a 9% increase in vehicle violations. There was also a 13% increase in the number of crimes interfering with vehicles (where the crook is disturbed when breaking into the vehicle). That's why we've put together this guide to keep you and your vehicle safe, by offering suggestions on how to protect yourself from car crime.
Electric engine immobilisers are now a thing. What do they do? Well, they employ a transponder in a car's computer that then talks to one in a car key. Essentially, this means that without a key, a car becomes harder to steal. This has left some car criminals trying to steal keys before they take off with cars. Criminals have been known to pickpocket, steal from houses, steal from handbags and in some scenarios even jump in cars that are stopped at traffic lights. We advise that you always keep your keys out of sight and in a safe place. As well as making sure you car doors are locked when driving.
There have also been many instances where people have left their engines on and left their car unattended. Many people do this in the winter so they can defrost their car and stay warm for as long as possible. But it isn't a sensible idea as there are many opportunist criminals who will jump in and drive off. We advise that you simply never leave your car unattended while the engine is on.
Some criminals don't even want a car, they want what they see inside of it. Seeing a laptop, sat nav or designer goods through a car window can be too much temptation for some criminals. These criminals usually chance it and simply smash a car window before grabbing items from the car and running away. We advise that you don't leave mobile phones, laptops or sat navs in sight and you should always lock coats and bags in the boot of your car.
This might sound obvious, but make sure your car is locked before you leave it. Some people are falling victim to a new vehicle stealing technique. This new technique uses transmitters to interfere with the radio waves sent from keys to a car's central locking system. We advise you to look for physical signs that your car is locked, such as hearing the locks thunk shut or seeing the indicators flashing and mirrors going folding inward.
There is also an increasing number of stolen illegal cars becoming legal and roadworthy by simply swapping number plates around. If criminals can steal number plates with the same make, age and colour as the stolen car and put them on the stolen car, it becomes legal. It's imperative that you report stolen number plates to the police as soon as it happens in order to prevent further crime from taking place.
The government has said that around 20% of all car crime occurs in car parks, so it makes sense to be extra vigilant when parking your car in a car park. We advise that you look for good lighting and CCTV when parking in a car park, so your car is less likely to be targeted for crime. You can also look out for a police supported Park Mark secure parking sign, which means that the car park will have extra security.
Your safety is our priority at Antwis Engineering, Sevenoaks. If you need any advice about your car and vehicle safety, do not hesitate to be in contact with us today, and we'll be happy to help.